Hasbulla Magomedov was nicknamed 'Mini Khabib,' inspired by former UFC lightweight champion Khabib Nurmagomedov.
The Russian influencer who is no doubt all over your timeline. Hasbulla has been a subject of memes for months now, and he's become an internet celebrity. read about Hasbulla Magomedov Age and his early success in this article (Updated on 2022, 25th April)
The TikTok star earned his nickname after posting several hilarious videos of him pretending to fight children.
Although Hasbulla Magomedov is an adult, he has the characteristics of a child. Hasbulla Magomedov could be mistaken for a five-year-old based on his height, face, and voice.
Who is Hasbulla?
Hasbulla Magomedov is a social media influencer from Dagestan, Russia, who has amassed approximately 2 million followers on Instagram with his pranks, spoof videos and shenanigans. His viral TikTok and Instagram videos often feature him training and faux sparring with Mixed Martial Arts (MMA) fighters — famously with Ultimate Fighting Championship (UFC) champion and fellow Dagestani Khabib Nurmagomedov. He has played pranks on famous Turkish chef and social media influencer Burak Özdemir, and called out Youtuber Logan Paul for a fight for his NFT.
You May Also Like This: Rhonda Worthey Divorced Troy Aikman (Complete Story)
Hasbulla Magomedov Age
Hasbulla Magomedov was born in Makhachkala, Dagestan, Russia on July 5, 2003. Although he is 18 years 9 months and 20 days old now, he is known for his babyface, high-pitched voice, and child-like height.
Although not confirmed, it is speculated that Hasbulla suffers from Growth Hormone Deficiency (GHD), which is a distinctive kind of dwarfism, accounting for his unusual looks.
Hasbulla Magomedov Height
Despite being just 3ft 4 inches in height, Hasbulla's notoriety sprung partially due to his larger-than-life personality. He has started posting his life on Instagram and TikTok during the height of the COVID-19 pandemic.
His early posts showed his hot-headed temperament and developed into insights into his martial arts training, such as boxing and wrestling and his luxurious life.
How Did Hasbulla Magomedov Get Famous?
His popularity reached a high in May 2021. Hasbulla has shown off his extreme charisma and trash-talking skills during his pre-fight conference with a famous 18-year-old Tajikistan singer Abdu Rozik, even calling out the likes of the former UFC champion Connor McGregor.
The Russian social media sensation has made quite a splash in the MMA world. It has taken pride in his newfound moniker 'Mini Khabib,' which he gained after a video saw him copycatting Khabib Nurmagmadov's iconic UFC 229 weigh-in.
And interestingly, the two are homies. Since Hasbulla hails from Dagestan and has taken up MMA, he's struck up a friendship with UFC, and the pair have been photographed and featured on one another's social media. And while the two have a likeness in appearance, they are not of blood relation.
On Habulla's social media, there are photographs & videos of him with prominent Russian fighters as well as he's shown to roughhouse with his friends. And after several videos of his escapades and training went viral, Hasbulla blew up in the MMA world.
His most popular video is his pre-fight press conference with singer Abdu Rozik, who suffers from the same growth condition and is about the same height as Habulla.
Why is Hasbulla so famous?
A search for 'Hasbulla videos' shows him playing with a monkey, living it up in the Burj Khalifa, punching mixed martial arts athletes twice his size and then running for his life, sitting atop Khabib's shoulders with aplomb, and not to forget, kicking the shins of his arch-nemesis — Abdu Rozik.
Hasbulla and Rozik have come to blows on the sidelines of a major UFC fight in Las Vegas and shin-kicked each other during an interview, which lead to calls for a 'Hasbulla versus Abdu Rozik' fight.
Why is Hasbulla short?
The answer to this is similar to 'what is the connection between Hasbulla and Lionel Messi'. A doctor has recently posted a video on TikTok claiming that the Russian dubbed 'mini Khabib' suffers from a rare genetic condition called Growth Hormone deficiency — a disorder that occurs when the pituitary gland in the brain does not produce enough growth hormone — which has led to his stunted growth and high-pitched voice.
Dr Karan Raj states that if undiagnosed and untreated in childhood Growth Hormone deficiency can be irrreversible. However, treatment during childhood ensures that the patient develops normally during puberty.
Lionel Messi too was diagnosed with Growth Hormone deficiency when he was ten-years-old, and the treatment was something his family couldn't afford, However, Barcelona Football Club offered to pay for his treatment and his family moved from Argentina to Spain leading to him bossing the Spanish and European football scene for years.
Hasbulla Career
Since Dagestan has been a steady supplier of formidable MMA fighters to hop on to the herd mentality, Hasbulla has taken to boxing and mixed martial arts.
The small fighter's social media is heavy, with videos of him bridging up to peers double his size and taking a jab at the camera.
And due to his camaraderie and go-getting nature, his posts also show him routinely weight training, sparing & ground opponents in the gym — but that's probably just for show and antics — and the gradual progression of his training techniques, combination strikes and submissions.
Hasbulla and Abdu Rozik Fight
Hasbulla's most iconic video to emerge so far, is a clip of him and Abdu Rozik holding a mock 'press conference' where the pair appear to throw insults at each other.
The fight was said to be being organized by Chechen MMA fighter Ashab Tamaev and has been heavily promoted by people close to them, however, no date has been set, making it hard to tell whether the fight will or will not go ahead.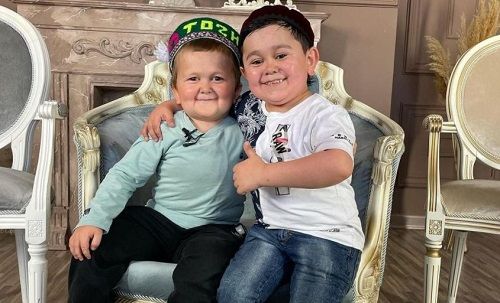 However, the tension between the two remains with the pair clashing outside the cage at UFC 267 last month. Both Magamedov and Rozik had been guests of legendary promoter Dana White.
Rozik was seen holding up a sign reading: "Hasbulla! Can you read this? Sign the contract… Stop talking so much!! Can you tell me your actual talent or only strawberry.
"Are you following me on Instagram, which is your account??"
There has been condemnation around the fight, with it being branded unethical by the Russian Dwarf Athletic Association.
Regardless, Hasbulla frequently taunts UFC stars such as Conor McGregor.
Medical Condition Of Hasbulla 
Despite no confirmation of the specifics of his condition, he is believed to have a form of dwarfism that is also likely to be what causes him to have a higher pitch in his voice.
Hasbulla's height is around 1 meter tall and estimated to weigh in at 16 kilograms (2.5 stone).
Hasbulla has a Taste in Cars
Hasbulla has exquisite taste in cars. His social media channel is inundated with photos of him flanking and flaunting fresh BMWs & AMGs.
Granted that he's short, he has been shown to steer cars while lapping on the driver, recklessly riding a quad bike in the streets of his community and solely driving a 4WD on beach fronts. But he doesn't stop there.
Aside from the cars, there are many videos of the daredevil toting 9mm guns and jokingly brandishing knives at his peers. He's been seen firing an AK-104. With the help of a police officer, he tries to hoist the weapon himself and flops. But with the assistance of a cop, he fires multiple shots from the rifle as though he were a veteran soldier.
Hasbulla Magomedov Net Worth
Since blowing up on TikTok, many questions have been surrounding Hasbulla's net worth. According to reports, his social media status and promotional works have seen Hasbulla's net worth swell to over $100,000; however, this cannot be verified. Should the Hasbulla vs. Abdu Rozik fight go ahead, you can expect that figure to climb dramatically.